NEW BIRTH
Alan had always experimented with his own individual ideas (alongside his rather higher profile as the now acknowledged musical formulator of DEPECHE MODE) but it wasn't until Daniel Miller heard some of his demos (recorded on a 4-track cassette machine) and asked him to reproduce them, that the reality of RECOIL as a solo project came to light.

The early RECOIL recordings revealed Alan's position as a pioneer in the newly emerging world of sampling technology and demonstrated how he could turn the DEPECHE MODE sound around to create something entirely new.

Simply entitled 1 + 2 , his first collection of primitive demos, though completed in the early 80's, was inconspicuously released as a mini-album in the summer of 1986, alongside DEPECHE MODE's top five album, BLACK CELEBRATION.
"'1+2' is completely synthesizer based yet bears no resemblance to the pretty pop ponderings of the group. Mostly of an instrumental nature, some of it pulsates in the traditional sense but serves mainly as ambience. It is nice to see DEPECHE MODE's members branch out into serious musical ventures rather than take the easy route of producing merely bubble gum pabulum."
Dance music report
Just as BLACK CELEBRATION can be remembered for closing one chapter on DEPECHE MODE, MUSIC FOR THE MASSES can equally be seen as the catalyst for the many changes that were to come.
In some ways it's a pivotal record. Firstly, this was the only album recorded by DEPECHE MODE and TEARS FOR FEARS producer Dave Bascombe (whose role was more that of an engineer) and is perhaps the nearest to a self-produced LP than any before or indeed since. It also saw a more substantial period of pre-production at Alan's home studio in North London before moving to a commercial studio.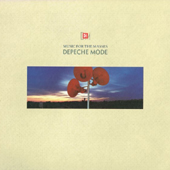 Daniel Miller was initially asked about the level of his contribution but declined to be involved in the production side of the record, citing his concerns over the tension that manifested itself during the previous two albums and, as he saw it, the need for some fresh input. Musically too, another day had dawned.
The most dramatic development at this time however, was the rise of DEPECHE MODE's commercial profile which suddenly catapulted the band onto the world stage with a force that has rarely been matched by any other band of their generation. And as we shall see, the band's massive popularity finally spilled over in a way nobody could have imagined.
MUSIC FOR THE MASSES was recorded at Guillaume Tell in Paris, Konk studios in London and finally mixed at Puk in Denmark.
Says Alan "I enjoyed Puk. It's a well equipped, well run studio with a vast control room, nice accommodation, good recreational facilities and top breakfasts. The problem was that there wasn't much to do around there - probably a good thing actually. Luckily, I'd just passed my driving test and as we'd hired a car, when things got tense in the studio, I'd go off for long drives in the Danish countryside. As for nightlife, I remember one occasion when we ventured out to the local town (having been climbing the walls for a few days) and returned, rat-arsed, in the middle of the night. In our desperation for food, we crow-barred open the huge industrial 'fridge that was securely locked. Lars' breakfasts were never quite the same after that."
Unfortunately for the fledgling RECOIL, the release in January 1988 of Alan's second album, HYDROLOGY, clashed with this tour and the enormous popularity of the band restricted him from promoting his own work. A more ambitious follow up to 1 + 2, HYDROLOGY was still a far cry from the commercial pop sound of his day job. It remained entirely instrumental, having been recorded on a fairly modest set-up, and was obviously intended to be different.
Alan described the project at this stage as "an antidote to DEPECHE MODE in some ways; a way to alleviate the frustrations of always working within a pop format."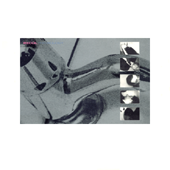 "This is RECOIL's second stab at vinyl, and it's a marked progression for this instrumentalist. Keyboards, sampled sounds et al are well in evidence, but of course this is miles from the pop prowess of his alter ego. Instead RECOIL's reason for existence is to create soundscapes which fluctuate and radiate warmth and affection. From floating piano sounds to tribal villages, a brief drum-heavy rhythm, then back to the rolling hills, RECOIL make music to divorce your mind to. Exceptional and extremely enjoyable."
Music week
"RECOIL's secretive persona and luscious style make for something that's at once grandiose and classically appealing while retaining a certain individual eclecticism. That this mystery personality has reaped found sounds, such as native villages, introduced a keyboard verve and supplemented the proceedings with great mounds of rhythm when necessary, suggest that they are accomplished craftsmen and world-wise tunesmiths. 'Hydrology' is a seamless shroud for modern music, a mock symphony for a mixed up generation and an essentially moving collection of sketches."
Underground Magazine
DEPECHE MODE recruited the unique skills of Dutch photographer Anton Corbijn to further enhance their by now familiar style. He directed promos for MUSIC FOR THE MASSES helping to tie together the whole phenomenon that was becoming DEPECHE MODE and thus providing the focus for a massive world tour.
After completion of the MUSIC FOR THE MASSES album, DEPECHE MODE set out on tour with hopes high but sights realistically set. However, the success of this venture outstripped everyone's expectations worldwide, with the band's massive popularity finally being felt in the formerly reluctant US, who demonstrated their craving in the form of an audience of 86,000 at the 'Concert For The Masses' in the Pasadena Rosebowl.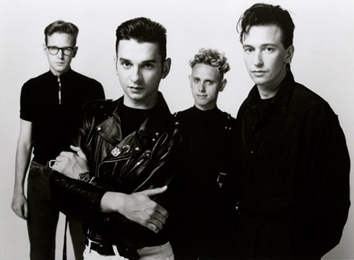 "The Rosebowl performance wasn't actually one of the best, due to monitoring problems but it certainly gave us a lot of credibility back in Europe where nobody could quite believe our popularity in the States. I always found being on stage a surreal experience - at times my mind would be somewhere completely different whilst my body was on automatic pilot. It's like driving a car; if you actually stop to think about what you're doing, it becomes difficult."
The exhilarating atmosphere of this mammoth event was caught on camera by famed 60's documentary director D.A. Pennebaker who had been invited to film the exploits of the band as the MUSIC FOR THE MASSES juganaut swept across the American heartland laying siege to everything in its wake and leaving behind a newly enthused and ever growing legion of followers.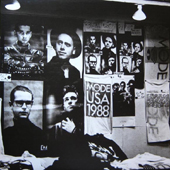 The 101 live album (mixed by Alan in London with Alan Moulder) along with the film (named after the 101 dates the tour encompassed) was released on 13th March 1989 and EVERYTHING COUNTS was the track chosen to promote it. "I can't remember who really pushed for EVERYTHING COUNTS I think it was fairly unanimous. It had been a very popular live track for a number of years."
Taken from DEPECHE MODE's third and singularly most politically aware album CONSTRUCTION TIME AGAIN, EVERYTHING COUNTS was a naive but heartfelt treatise on the budding financial gluttony that was to so characterise the decadent 80's.
"The grabbing hands, grab all they can, all for themselves, after all it's a competitive world. Everything counts in large amounts" sang Dave to the masses. Though not deliberate, by this point in their career the song was an almost sardonic take on DEPECHE MODE's own personal and financial status and it must not have been difficult for the band and fans alike to realise the irony of the grabbing hands on both sides of the microphone.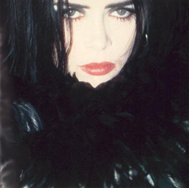 Apart from mixing the 101 album, Alan also found some time to do a special remix of TONI HALLIDAY's single TIME TURNS AROUND together with Alan Moulder who had originally produced this song.


"I was asked to do it by Alan Moulder (after we'd worked together mixing 101) and, with his help, we finished the remix at Swanyard studios, London after I had programmed most of it at home in Cricklewood."
Toni should be one of Alan's contributors for his next RECOIL album BLOODLINE.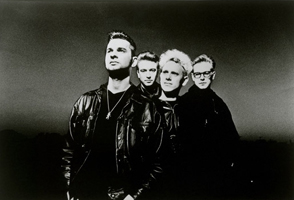 In many ways it was the crowning glory for a band who epitomised everything that rock and roll should be, elevating them to the official position of stadium act. The compelling quality of Martin's words was matched by the innovative and assured approach to the music, helping to set VIOLATOR apart from other releases that year.
While their once popular contemporaries (born from the explosion of early 80's synth rock) had fallen by the wayside, DEPECHE MODE had endured the rigours of the decade and developed to represent the only true sound of its kind. The unique blend of dark, sensual imagery and electro 'savoir-faire' ensured that the album was a welcome relief to the ears and stood out clearly amongst the melee of fledgling dance acts and washed-up soft rockers.
This is not to say that VIOLATOR was the pure analogue beast that it has long been revered as and without wishing to offend those austere devotees who would balk at the mere mention of the word 'guitar', Alan reminds us, "there are plenty of live drums in the form of loops on VIOLATOR and a whole range of different acoustic instruments as well as the electronics. I think this album represented the perfect combination of played and programmed sounds."
The bulk of VIOLATOR was recorded at Puk Studios in Denmark and introduced a significant newcomer to the previously closed-rank world of DEPECHE MODE production. Former STRIPPED remixer Flood, had already worked with fellow Mute acts NITZER EBB, NICK CAVE and ERASURE when Daniel Miller suggested a meeting at Martin's house.
"This scruffy, bespectacled, rather unlikely looking bloke rolled up, raided the 'fridge a couple of times, slouched down on the sofa, pontificated for a bit and thus - a new production team was born."
At the initial recording session in Milan, the new partnership set to work on Martin's demos which were beginning to have diminishing influence on the final results.
"There were no hard and fast rules - sometimes the songs drastically changed from the demo and sometimes they were pretty similar. Martin didn't like to explain his songs to anyone and knowing that, the other group members would rarely ask him what they were about. It's clear to me that he enjoys the ambiguity of his words and the subversive quality of some of them (with their possible dark meanings), is probably what makes them interesting. It is also probably right to say that from VIOLATOR onwards, the final results bore less resemblance to the original demos than ever."
It would be fair to attribute this to Alan and Flood whose dominance of the studio was quick to develop and ultimately provided a lasting and fruitful liaison.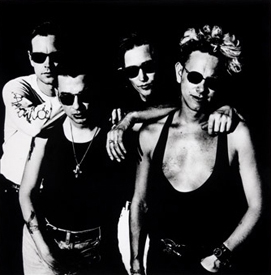 "Flood and I worked well together. Our styles complimented each other - my musical angle coupled with his technical prowess. He was undoubtedly an important factor in the development of the VIOLATOR and SONGS OF FAITH AND DEVOTION albums."
After its release in 1990, a promo tour to publicise the upcoming live shows demonstrated DEPECHE MODE's massive appeal when a predicted few hundred fans turned into approximately 15,000 who crammed themselves into Wherehouse Records in Los Angeles to see their heroes sign copies of the new record. The mass of people was too great, the windows imploded and a riot spilled out onto the streets. As frightening and physically destructive as this was, the event caused exactly the attention that DEPECHE MODE needed.
VIOLATOR spawned a string of hits all over the world including PERSONAL JESUS, ENJOY THE SILENCE, POLICY OF TRUTH and WORLD IN MY EYES, and saw the band rise officially to the level of stadium superstars.
It wasn't until DEPECHE MODE finally allowed themselves an extended break after the enormously successful WORLD VIOLATION tour that Alan could return to RECOIL. However, after starting work on a 3rd album, he agreed to produce another for label mates NITZER EBB, who had supported the Mode on their previous two tours and had become good friends.
EBBHEAD was recorded at Konk Studios and Alan enlisted the help of Flood who had worked on VIOLATOR.

Says Alan "NE were really well behaved while at Konk Studios although it got quite stressfull towards the end as everything ran over schedule. This wasn't helped when Flood did a Judas and went off to work on U2's new album in the middle of the NITZER EBB recording".

It was during this time he cemented both a good personal and working relationship with lead singer Douglas McCarthy who would return the favour by singing on RECOIL's next album BLOODLINE.

Notes: although there exist many formats of the NITZER EBB records Alan has contributed to, I have decided to do scans of the U.K. CD formats only as this is a RECOIL website and not a NITZER EBB one. An incomplete list (my private collection) of these records is here: NITZER EBB List.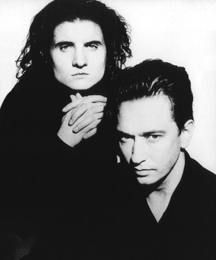 For BLOODLINE, released in 1992, Alan recruited guest vocalists for the first time with contributions from Moby, Toni Halliday and Douglas McCarthy helping to produce an album that was a significant move forward for RECOIL.
It also marked the first RECOIL single, a cover of an Alex Harvey track, FAITH HEALER.
Although under no pressure to make the album more conventional, BLOODLINE was a much more commercial effort which came closer to having complete songs, albeit songs which split and divided with alarming regularity.
| | |
| --- | --- |
| Says Toni Halliday "Alan just let me do exactly what I wanted to do. He brought me in because he respected me, and that's what I want. I only worked with Alan because I know him very well; he used to live three streets down from me. He knew me when I was a solo artist and needed a remix. So this was like trading a favor. He gave me a DAT of it, I took it downstairs and just started experimenting with vocal things that I wanted to do, and I went in with it and just said 'This is what I want to do.' And he just said 'fine', and that was it." | |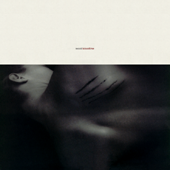 "'Bloodline' indicates that Alan Wilder has been a key figure in DEPECHE MODE's development, from their early pop nursery rhymes to the darker, heavily textured style they adopted in the mid-80's. Wilder concocts the filmic soundscapes, slow burning things that slip into melodramatic grandeur through a side door. Douglas McCarthy blisters Alex Harvey's 'Faith Healer', Curve's Toni Halliday drenches 'Edge To Life' and 'Bloodline' in drowsy paranoia. 'Electro Blues For Bukka White' has long-gone disembodied bluesman White, muttering and wailing underneath an eastern drone that both eulogises and ignores him. Like the rest of 'Bloodline', the effect is disconcerting but ultimately very moving." Vox
"Wilder uses his RECOIL opportunities for wild experimentation. Delving deep into the world of technology 'Bloodline' pitches his electronic symphonies against the disparate individual styles of the guest vocalists. The result is an often brilliant collection that swings from the chilling Halliday-led title track (harsh, unfriendly, ominous) to the daft but inspired 'Electro Blues For Bukka White' (warm, weird, wonderful). A glorious case of 'We have the technology!....'" Select
Between 1992-93, Alan reassumed his DEPECHE MODE duties as the band recorded the album, SONGS OF FAITH AND DEVOTION.
Displaying some of DEPECHE MODE's most stimulating and emotive music, the album blossomed into a sleazy romp through the world of a supposedly invincible MODE but in reality one that was already reeling from the weight of internal personal problems - a not unsurprising paradox and certainly one worthy of a band of such extremes.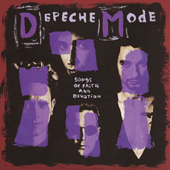 Counteracting the suggestion by some that the difficulties of certain band members made the LP one of the MODE's darkest, Alan contradicts: "I don't agree at all that SOFAD is a dark album - it's the only DM album that leaves you feeling really uplifted. I FEEL YOU for example, or HIGHER LOVE, RUSH etc. all have an overriding sense of optimism. Naturally the complex atmosphere of an album reflects the state of the individuals involved at the time, and in this case, Dave's drug use was a factor during the making of the record. It was obviously disappointing - not for any moral reasons but because it adversely affected his personality and more specifically his greatest asset, his sense of humour. There was an increase in general apathy and a distance which was sad considering what an enthusiastic and vital person he really is. It's also true that he was 'out of it' for much of the time so his active role was somewhat limited - he'd stay in his room but surface every now and then to enthuse about the music and offer words of encouragement. The obstacles that did hinder the progress of the LP were not unfamiliar after 7 albums and numerous recording sessions although this more performance-based style of working threw it's own spanner in the works which some of us found hard to come to terms with."
Frustrations were further compounded by 2 recording sessions at a rented villa-cum-studio in Madrid where the band came away with only 2 tracks.
"There were some extremely difficult moments during the Madrid sessions" admits Alan. "I have a very strong work ethic - when I'm working, I'm working - which is the only way I can complete a project and know I've given my absolute best. Flood and I found it increasingly difficult to concentrate with some of the distractions we encountered in the villa."
After these sessions, Andy Fletcher returned home for personal reasons and with the number present in the studio slimmed down (to a core group consisting of Alan, Flood and whoever else was required) the 3rd and easily the most productive session at Chateau Du Pape Studios in Hamburg saw the album turn around with 8 further tracks recorded. To add to the latest production methods, outside session musicians were used for the first time: "There was a collective decision to bring in a few other musicians for certain tracks where it seemed appropriate. We solicited the help of an Uilleann Piper for JUDAS and, having decided we wanted real strings for ONE CARESS, there were only really one or two choices as to who should arrange them - Wil Malone. The strings for ONE CARESS were recorded at Olympic Studios in London, using a 28 piece section, to which Martin sang the vocal live - thus equalling the fastest ever recording of any one DM track, the other being SOMEBODY."
The album was eventually mixed at Olympic Studios in London by Alan, Flood and Mark 'Spike' Stent. Helmet (as Stent is also known) certainly contributed something to the success of SONGS OF FAITH AND DEVOTION which was released to critical acclaim and went on to top the charts worldwide.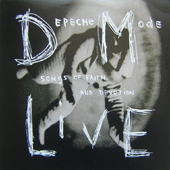 Accompanied by a 7 screen film show from Anton Corbjn and the addition of two gospel singers, as well as live drums for the first time (played by Alan), the DEVOTIONAL tour saw DEPECHE MODE in full flow - at their best....and worst. Although the group had reached the pinnacle of success (and, indeed, revelled in the trappings of it), aspects of such an excessive lifestyle had taken their toll on everyone and things eventually came to a head. For Alan, the thought of recording another album and tour was too much to contemplate and he began to think about moving on.
On 1st June 1995, having spent 14 years as an integral part of one of the most popular and influential bands the UK has ever produced, Alan made the difficult but inevitable decision to leave DEPECHE MODE and spent the rest of the year taking a well deserved break.
Read Alan's Official Statement.
Continue with Part 04.