Notes: the content of this section was mainly reproduced from SHUNT - The Offical Recoil Website and is used with kind permission from SHUNT. The focus on record details here is especially on Alan Wilder's musical contributions outside RECOIL and DEPECHE MODE.
Tracks where Alan Wilder had contributed to are marked in bold style in any subsequent record details.
Select Guide as a direct guide to all parts of this section.
Select Releases as a direct guide to all releases featured in this section.
EARLY YEARS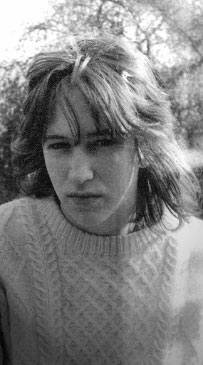 Alan Charles Wilder was born in Hammersmith, West London on 1st June 1959, the youngest of three brothers. Surrounded by a passion for all things musical (something commonplace in the Wilder family), it was inevitable that he be encouraged to follow in their footsteps and take up the piano. By the time he graduated to St. Clement Danes Grammar School at the age of 11, he was already way ahead of his music class (having added the flute as a second instrument) and soon became a leading member of his School orchestra and 4-school Brass Band.
He continued to study the piano independently until his interest in Bach and Beethoven was being replaced by Bowie and Bolan, and his desire to play in the orchestra was tempered in favour of a yearning for less innocent past times. By 1975, at the age of 16 (following moderate 'O' level success), a return to St. Clement Dane's to study for his 'A' Levels didn't appeal and after just one more term, he opted out, applied to every recording studio in London and eventually secured the position of Tape Op. (studio assistant) at DJM Studios in the West End.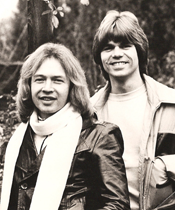 Alan reflects "I left school during the sixth form and went on the dole until my parents pushed me into writing off to recording studios, the only thing I'd expressed an interest in. After being turned down 40 times I got a job at DJM Studios in New Oxford Street. I began working there as a 'Tape Op' (assistant) in their own recording studio. The only good thing about DJM was that when bands finished studio sessions they'd often leave their instruments behind so I could muck about on a keyboard or bash some drums."
Alan made his recording debut when he was asked to play the Harmonium on RICHARDS 'N' WILLIAMS' single MARRIED.
| | |
| --- | --- |
| Says Alan "During my time there, THE RUBETTES, who had been very successful in the UK charts during the early '70s, recorded several tracks including some of their later singles like 'Under One Roof'. They were produced by the late Alan Blakley from '60s pop group THE TREMELOES. Two members - Alan Williams (singer) and John Richardson (drummer) - started a spin-off project of their own, also produced by Blakley, and one night when recording they asked if I would play the Harmonium part for the middle eight of their new song, which ended up as a single released on Polydor. Was I paid? I doubt it....;-)" | |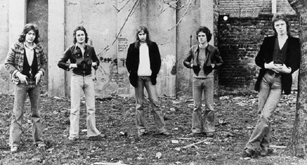 As DJM housed it's own record label, Alan found himself engineering on in-house productions as well as working with outside artists, and it wasn't long before his keyboard skills were being sought after for session work. Inevitably, this demand for his services and his desire for a more creative role, would lead him away from his current position and he remained with DJM Studios for just one year before moving to Bristol to join one of their bands, the DRAGONS.
Says Huw Gower "I got a phone call, out of the blue, one day in the late spring of 1976. A Cockney voice identified himself as Alan Eden, just moved to Bristol and partner in a new indie record production company with Donovan's first call for the drum chair, renowned session musician Tony Cox. They were cutting tracks with a singer-songwriter from Weston-Super-Mare named George Smith. Would I be interested in playing in a band they were putting together with bassist/vocalist Jo Burt, and did I have any songs? The Cox tunes were truly awful, George's originals way better and he sang great! Our 3 song demo, one each by George, Jo and myself got us an immediate offer of a deal from DJM Records' staff producer, Phil Samson. Shortly after, Nick Howell replaced Alan and it was this quartet who signed the contract. Recording tracks for a proposed debut album began on Halloween 1976 at DJM's Oxford Street Studios in London, followed by sessions in January that would yield the groups' only record release, the single 'Misbehavin'. George wrote the A side, Jo's 'Laid Back Lady' went on the back. Assistant engineer at DJM, keyboardist Alan Wilder joined the ranks at this time; now we were five."
Says Alan "I was great at the more musical aspects of studio work, such as tape editing, drop-ins etc., but useless when it came to the patch bay or routing the mic lines through to the tape sends. It was an ambition to be a musician but not one I thought would come true until a band called DRAGONS came in. We became friendly, I ended up joining them and moved to Bristol. That was a pre-punk, soft rock group, nothing special, but I did gigs and we made a single."

The DRAGONS released the single MISBEHAVIN' through DJM Records but after a frustrating lack of success and, more importantly, money, the group folded when the record deal eventually ran it's course.
Note: a DRAGONS compilation album entitled BEST OF BOTH WORLDS was released in 2015 featuring a few tracks Alan had contributed to including MISBEHAVIN'.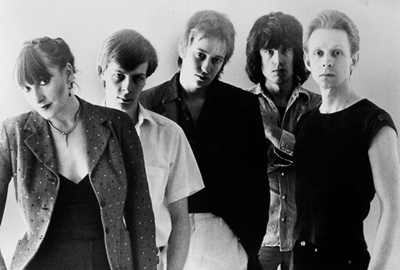 Together with fellow DRAGONS bassist Joe Burt, Alan returned to London under his pseudonym 'Alan Normal' - a necessity in the anarchic days of punk - to join newly-formed group DAFNE AND THE TENDERSPOTS.
Says Alan "After two years in Bristol, life got too lethargic so I was glad when a friend dragged me home to join a band called DAFNE AND THE TENDERSPOTS. That was a restaurant type group playing jazz blues until it was decided that New Wave was happening. We had all these terrible clothes made and worse skinny ties. We were awful but again we had a deal and made a single, 'Disco Hell'."
"There are all sorts of influences at work in the music, and lyrically they have the same cynical / satirical outlook on modern times as Joe Jackson or mid-period Kinks...'To Be A Star' featured an insistent keyboard riff from Zebra-crossing-jacketed Alan Normal - one of the nucleus of the band...Duffy is backed by an invisible drummer, a synthesizer twiddler, a smug guitarist and the bass player from Burlesque..."
Quoted from various sources
After releasing DISCO HELL in 1979 to a tepid response, the TENDERSPOTS fell foul of a disinterested public.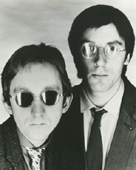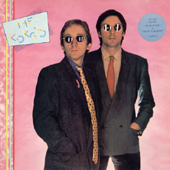 Alan was acquainted with Andy Davis who had formed the duo THE KORGIS together with James Warren. So Davis asked Alan to contribute as a session player for their 1979 single IF I HAD YOU.
This track also appeared on THE KORGIS' debut album.
Read THE KORGIS Press Release.
Alan moved on to his next group called REAL TO REAL. Signed to Red Shadow Records, they released several singles and an album entitled TIGHTROPE WALKERS.
REAL TO REAL: White Man Reggae (Red Shadow)
"It's precisely what the title suggests and very effectively executed too. A band and record label to watch out for."
Sounds - March 1980

REAL TO REAL: White Man Reggae (Red Shadow)
"If you're a reggae fan, this one's definitely for you. Even if you're not, this one is worth a listen - it grows on you after a couple of plays."
Record Mirror - March 1980

REAL TO REAL: Mr And Mrs (Red Shadow)
"This is tight, urgent, modern rock 'n' roll with lyrics that slam suburban sell-out. It comes from the LP 'Tightrope Walkers' and while as a single it may not find a lot of success, it bodes well for the album and for the future of a very pro band."
Huddersfield Daily Examiner - March 14th 1981
REAL TO REAL: Upstairs at Ronnies, London
"An evening upstairs at Ronnie's can be a real challenge for a band. The lighting is weak (and the band played three numbers before they turned the house lights off), the stage is not only cramped but low down for unnerving contact with the audience. With all this against REAL TO REAL, they still managed to win themselves a few more friends tonight. They are a five piece, London based band, together in their present line up since January, who play that most touchy of musical styles white reggae. 'Police clones!' I hear you thinking. Well no, actually. With the exception of 'Tightrope Walkers', which has a Police-ish base line, they don't really sound like them at all. The similarity ends with the fact that they're white guys playing reggae music. Their best songs have a very definite structure about them. They closed the set with 'White Man Reggae' which was also their first single on Red Shadow Records."
THE FLATBACKERS (consisting of Julie Usher, Lucy Dray and Lynn Monk) were signed to Red Shadow Records, a small independent label, around the same time as REAL TO REAL.

Lynn recalls "Alan Wilder was employed by the record company to do the session with us. We had no contact with him other than one rehearsal and the recording which was done as an all-night session at Jam Studios in London. The previous two singles also had a session player on keyboards, but I can't remember who they were. The reason for this was that when Red Shadow signed us, we had a keyboard player called Jeannie Hay. She left band at the time we signed as she didn't want the commitment of a record deal. We tried to find a replacement, but couldn't find anyone suitable, so, with a release imminent, we decided to continue as a 3-piece band and played all our live concerts as a 3-piece. It took us until the B-side of the 3rd single to persuade the record company that our sound had changed and we didn't actually need keyboards. But such is the Chauvenism in the rock industry! So Alan only played on the A-side of the record. The B-side is just the three of us."
SERENADE OF LOVE was their third single. It did eventually turn out to be their last as the 4th single they recorded, which was destined for the Deram label in a sub-contract between them and Red Shadow, never got released. Red Shadow did try to regain full ownership of the recording so that they could release it themselves but they lost their court case. THE FLATBACKERS then left their contract on mutual agreement. Shortly after this, the band split.
Webmaster's note: a special thank you to Lynn Monk for providing the band image and the info!
Despite moderate success, REAL TO REAL eventually suffered a similar fate to Alan's previous bands and he moved on to pastures new, playing keyboards with established but somewhat staid CBS group THE HITMEN (whose lead singer, Ben Watkins, later went on to form Juno Reactor).
THE HITMEN: Ouija (CBS)
"Rubbish. I'm running out of patience with this sort of well-crafted, terribly professional pop. Pop? It's not worthy of the name. Only this job could ever induce me to listen to it. The winning thing about the DEPECHE MODE single (and their last, and SOFT CELL's) is its simple enthusiasm, its complete lack of cynicism. The Hitmen are so calculating - even down to the clever, clever name - it's unbearable; the only remotely comforting thing about all this is that they haven't a dog's chance of ever getting a hit."
Quoted from unidentified source
"In the search for a new disguise for dull and repetitive music, THE HITMEN have hit on a look which brings together shabby, top hats, raggedy scarves and the demeanour of a jaunty starveling recently discharged from the debtor's prison. Lead singer Ben Watkins devised what's known as his 'street urchin' look... Unfortunately there appears to have been a slight confusion over the new image, with the band's publicity proclaiming them 'nabobs of throb' and 'fakirs of funk' with a long tradition of 'dance macabre', jealousy and grave robbing which seems a strange mix of images."
Quoted from unidentified source
Well, perhaps a minor hit with BATES MOTEL, but not enough for a band who were on the rocks, and so it wasn't long before Alan was again hunting for work. However, this all too familiar cycle was about to change...
Continue with Part 02.