SELECTED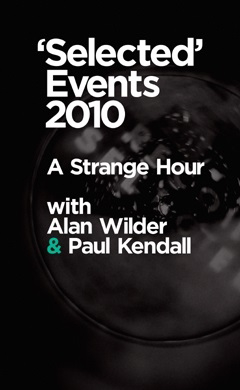 On the eve of SELECTED's release (a selection of classic RECOIL tracks), RECOIL was on the road for the first time in its history to promote the forthcoming release. A series of events were held entitled "'SELECTED' Events 2010 - A Strange Hour with Alan Wilder & Paul Kendall".
Says Alan "The idea to take the SELECTED project out on the road evolved as we started discussing promotion and I realised that I wanted to do something more challenging this time. The events are not so much 'live' band but more art installation. The music is comprised of stripped down, edited sections from many RECOIL remixes and alternative versions, combined so that what we end up with is recognisably RECOIL but doesn't necessarily sound like what you hear on the studio versions."
The first leg of this events tour spanned 24 dates accross Europe, Mexico and the United States and was performed during March and May 2010 (a second leg followed later in autumn that year).
During the first part of this initial leg "Strange Hours" were held in Barcelona, Madrid, Berlin (at the famous Hansa studios), Hamburg, Antwerp, Munich, Cologne, Zurich, Bucharest, Milan, Rome, Athens, Budapest, Prague, Lodz, Paris, London, Gothenburg, Moscow, Ekaterinburg and St. Petersburg.
The second part of this leg led over the Atlantic Ocean to Mexico City, Austin and New York.
For more information about the 'SELECTED' Events 2010 (Leg 1) visit the Events page.
In April 2010 RECOIL released an album, entitled SELECTED, featuring a selection of classic RECOIL tracks to celebrate 25 years of the project.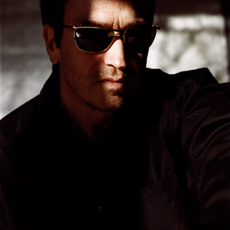 The tracks were chosen by Alan Wilder who says "The collection is made up of my personal favourites, remastered and edited together into what I consider a cohesive and total listening experience. My aim is for the listener to be drawn in over a period of time - to be transported to a special place."
Over the course of the last 10 years Alan has been ably accompanied by Paul Kendall who brings his idiosyncratic view to the whole procedure. He has also been fortunate enough to cement working relationships with many writers, vocalists and musicians, most of whom appear on this release.
Watch Recoil Selected Teaser on YouTube.
The album features a varied selection of vocalists including Diamanda Galás, Douglas McCarthy, Carla Trevaskis, Nicole Blackman, Hildia Campbell, Samantha Coerbell, Joe Richardson, Maggie Estep, Siobhan Lynch and Toni Halliday.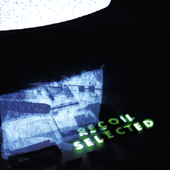 "'Selected', as the name suggests, is a best-of, and though his long association with Mute may have brought him more critical acclaim than commercial success, there can be no doubt that the partnership has overseen the creation of some outstanding music. RECOIL have always been harder, nastier and darker than the average electro pop types and there is plenty of evidence here not only to back up that view but also to demonstrate why that is a very good thing indeed. Filled with slow, dirty grooves and sometimes terrifying lyrical concepts that combine to create oppressive musical atmospheres, Wilder has always been at the forefront of his field."
Eddie Thomas - Subba Cultcha - April 2010
Due to the success of the first series of 'SELECTED' events RECOIL got out on the road again between October and December 2010 (an event in Manchester was planned for this leg but rescheduled for April 2011) for a second tour leg that spanned another 24 dates accross North and South America with a few closing dates back in Europe.
During this second leg events were performed in Dallas, Seattle, Portland, San Francisco, Los Angeles, San Diego, Santa Ana, Chicago, Toronto, Hamilton, Baltimore, New York, Santiago, Buenos Aires, Rosario, São Paulo, Lima, Bogota and Quito.
Back again in Europe "Strange Hours" were presented in Berlin, Dresden, Warsaw, Bratislava and Budapest. The final event in Budapest was presented as a special full cinema screening and was filmed using multi-cameras and the latest high-definition technology.
For more information about the 'SELECTED' Events 2010 (Leg 2) visit the Events page.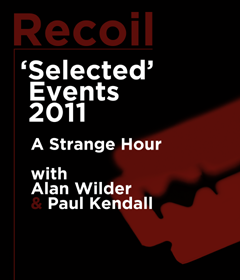 Having completed a hugely successful year in 2010 with some outstanding events across Europe, North and South America, RECOIL's 'Selected Events' tour returned in 2011 with some additional performances across Europe.
Says Alan: "2010 was a lot of fun and very different for me to be out on the road so much. Even so, there were places which we never got to for one reason or another and we have a chance to fill in those gaps, which is why I'm delighted to add a few more events."
During this tour events were performed in Manchester, Tallinn, Vilnius, Ventspils, London (2 times incl. Mute's 'A Short Circuit'), Leipzig, Oslo and Hasselt.
For more information about the 'SELECTED' Events 2011 visit the Events page.
Continue with Part 06.